To help you get up "into the cloud" fast, at minimal cost, and with easy to learn updating, we recommend basing your first website on the WordPress engine. Before you say, "No, I don't want a blog!", be assured that many large establishments use this approach. Here are a couple of our demonstration sites, take a look at them, then read on about the advantages of this way of setting up your presence on the web.
The first website is a "cafe ". Note the different pages, the menu, the happenings calendar.
Also note the background image. Resize your browser to see how this works.
Note the menu bar for getting to other pages in the sidebar on the left.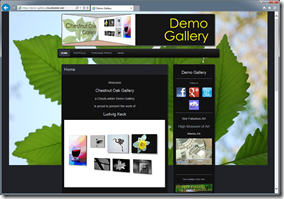 Now for a different type of website take a look at the "gallery".
On this demonstration site the navigation bar looks more traditional. Note the features in the sidebar, on the right for this site. Follow the links.
These sites are based on the WordPress engine. Adding pages, revising pages, is easily done using Windows Live Writer. If you know how to use Word, or a similar word processor, you can use Live Writer to maintain such a site. Here is a look at a Live Writer window. In fact, this very page as it was being set up.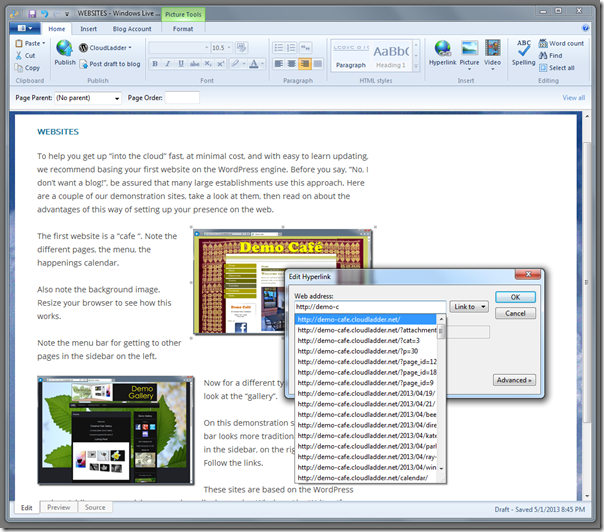 Demonstration Page
A special Demonstration Page shows a variety of options.
Demo-Bistro
Our Demo-Bistro site is changed in response to client needs. It is always under construction.
CloudLadder helps you by doing the setup chores and works with you to find the right "look and feel". We make sure that all the little details are done right. We provide the training and instructions so you can take over – no long-term commitments on your part.
If you need continuing support we stand ready to provide that as you need it. And when you need a much more sophisticated site we help you build it or lead you to talented providers.
Contact us – we will be glad to listen to your needs and provide a proposal, even a mock-up site – on us, before you spend a nickel!